Structure of the new study programme (as of 2023-2024):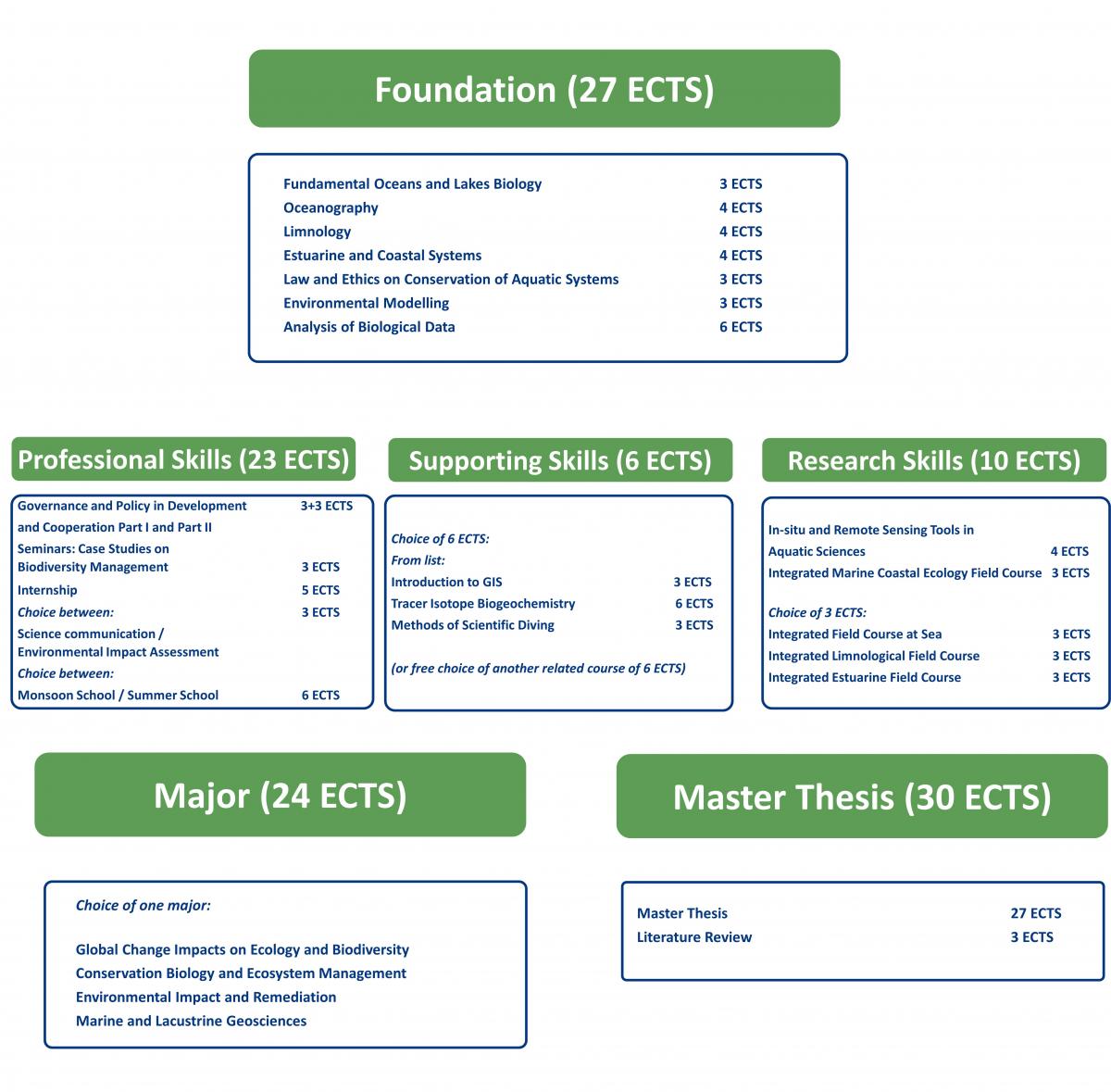 ​In general, the Oceans & Lakes programme puts strong emphasis on acquiring skills, both in marine and lacustrine research and management. It requires full-time attendance and active participation in lectures and practical exercises, visits to marine research centers, field trips and excursions.
The course programme consists of 6 parts:
Foundation courses (for 27 ECTS) with compulsory courses covering disciplines which are considered as essential knowledge for a marine and lacustrine scientist
Toolbox professional skills (23 ECTS) ,including Monsoon School
Toolbox supporting skills  (6 ECTS)
Toolbox research skills (10 ECTS), including field courses
One major (24 ECTS) to choose out of 4 specialisations:

Global Change Impacts on Ecology and Biodiversity
Conservation Biology and Ecosystem Management
Environmental Impact and Remediation
Marine and Lacustrine Geosciences

The master thesis stands for 30 ECTS and consists of a a literature review (3 ECTS), and of an individual research project (27 ECTS) related to ongoing research in one of the associated research groups.
An internship period of 3-4 weeks (or 7-8 weeks with the 11 ECTS variant) allows the student to get professional experience in marine and lacustrine related fields. In addition to classes, fieldwork is an essential part of the programme.
In order to prepare the students to function well in an international professional context, all lecturers and course materials are in English. International students enrolling in the programme should have a good English knowledge. For language requirements see more info.
You can find a guide on how to compose your study programme here:
-for the new programme (enrolments as of 2023-2024)